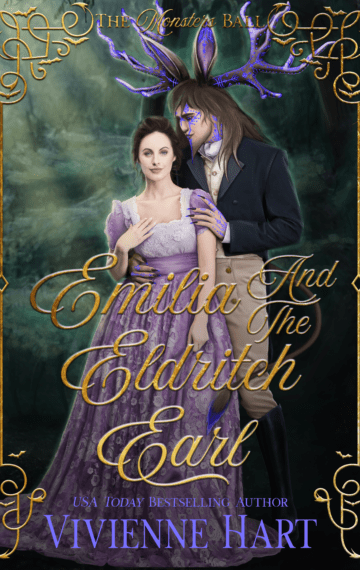 Coming Soon
$4.99
Get the Book
Available in:

Kindle

Available:

May 26, 2023
Dear Miss Emilia Whitehall, due to your family's recent fall from grace, Her Majesty has deemed your Season a failure. With no further prospects at this time, you are hereby ordered to attend The Monsters' Ball.

Emilia Whitehall thought she knew how her life would turn out: as the niece of a viscount, she assumed she would attend a handful of balls, secure a few marriage proposals, and settle into a contented family life with the well-bred gentleman of her choosing. But then her uncle ruined everything, and now Emilia must find a husband among the fearsome nobles at the Monsters' Ball.

Emilia is close to settling a contract with a pompous but acceptable goblin duke when she is suddenly whisked away by the mysterious Jack D'Elope, Earl of Ritchford. Furious at the earl for kidnapping her—and destroying her marriage prospects—she begins hatching plans for her escape. But the longer she and Jack are secreted away in a cozy, romantic cottage, the more Emilia begins to question her decision.

Jack is noble and handsome, and for all his mistakes, seems to have her best interests at heart. But is Emilia really willing to settle for the man who took away her choices, no matter how much he makes her heart stir? Or will she return to the duke and claim the dull but safe life he offered her—the one she chose on her own terms?

Emilia and the Eldritch Earl is a steamy regency monster romance and part of The Monsters Ball collection.